Camps at BrownHill Stable focus on safety, fun and lots of educational horse time. Many times we've been told "this is the best horse camp I've ever been to".  Come enjoy our safe and educated horses, our beautiful property and make lots of new friends.
To sign up for any camp, please e-mail Sherri at brownhillstable@frontiernet.net   for prices and a registration form.

~~~~~~~~~~~~~~~~~~~~~~~~~~~~~~~~~~~~
 2022   SEASONAL ALL DAY and AFTERNOON CAMPS,
Spend the day at the barn, plan on riding time (either games on horseback or a trail ride-depending on the group).  For the Winter camp, enjoy lunch and a craft and a horse movie or barn time (weather will determine schedule).  We are continually offering new One Day & Afternoon Camps.   Please e-mail for more dates.
April  – Saturday 2nd  – Spring Afternoon Camp (e-mail for information)
November – Saturday 19th – Fall Afternoon Camp (e-mail for information)
December – Thursday 29th  – Winter One Day Camp (e-mail for information)
~~~~~~~~~~~~~~~~~~~~~~~~~~~~~~~~~~~~~~~~~~~~~~
2022  SUMMER CAMP – Details and Dates
**** 
EARLY BIRD DISCOUNT :   for registrations & full payment received by APRIL 1st
FAMILY DISCOUNT:  deduct $10 per camp (after the first camp)  for multiple camps within the same family.
DEPOSIT:  of $50 due with registration to hold your spot for camp.  Deposits are non-refundable.  Balance of payment is due three weeks prior to the first day of camp.
No refunds for cancellations four weeks or less prior to the start of camp.
~~~~~~~~~~~~~~~~~~~~~~~~~~~~~~
June 13 & 14 – Mini Camp:        9am to noon Monday and Tuesday
Mini Camp is designed for young riders, ages 4-8.  Information will be very basic, with a real emphasis on fun.  Each day will include grooming, riding and a craft, plus basic barn skills.   A small snack will be provided.   Staff ratio will be one helper for each two campers.  Helmets will be provided.                                                               $120 ($110 early bird)
June 20  thru 23 – Intro Camp:     9am to 2pm Monday thru Thursday
A very popular camp for riders who have just started riding or who have never ridden before.  Campers will be introduced to all aspects of riding from stable management and caring for "their" horse to riding.  Each day of camp will include riding, crafts, horse related games and stable skills.  Campers will also meet an industry professional, such as a farrier, dentist or vet.  This camp is recommended for riders ages 6-15 at the limited or beginner level.  Staff ratio will be one helper for each four campers.  Helmets are provided.                                                                                                              $350 ($330 early bird)
July 11 to 15 – Horsemanship Camp:   9am to 3pm  Monday thru Thursday and 9am to 12noon on Friday
This amazing camp is for "horse crazy" students 7 years and older.  Camp will be geared to any level rider who wants to work on their horsemanship skills.   We will work on both mounted and unmounted skills-from grooming, show prep, first aid and bathing a horse to riding.   Also included will be classroom time, barn management, including feeding and stall cleaning.   This will be a fairly intense week for students who wish to improve all areas of their horsemanship.  Riders are expected to groom, clean up after and feed "their" horse for the week.  Also included in the week will be a farm project.    Expect to make lots of 2 legged friends and one very special 4 legged friend.   Riding time will include at least a 1 hour lesson each day.   We will also play games on horses, participate in unmounted games and enjoy horse related crafts and activities.   Horsemanship camp is suggested for students who may want to enter our work program, and riders who can't seem to get enough of horses.   Friday am will be devoted to preparing your horses for a riding demonstration for family members at 11:00am.  Camp is limited to 16 riders.  Group will be split to ride.  Helmets are available to rent ($10 for the week) if you do not have your own.      $450 ($430 early bird)
A second week of Horsemanship Camp will be offered July 25th – 29th. Same information as above.
August 8 to 12:  Advanced Camp:  9am to 4pm  Monday thru Friday
This camp is organized for those at the Advanced level, ages 9 and older.   Riders must be able to canter confidently and jump a small course to attend this camp.   Bring your own horse or ride one of ours.   The focus will be on having fun, mounted games and learning advanced skills both mounted and unmounted.   This camp is limited to 16 riders and will be split into smaller groups for riding.   Mostly we will have fun, hang out with horses and have fun!!  Crafts and afternoon water games are also scheduled.  Riders must have their own helmet and boots.
If you are not a current BrownHill Student, you will be required to schedule an evaluation ride before signing up for advanced camp.                                         $450 ($430 early bird)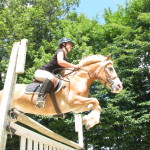 Please call Sherri at (717) 354-8718 or e-mail at brownhillstable@frontiernet.net, with questions or for registration information.