Sherri Brown, has been running BrownHill Stable and teaching since 2000.  She is a Certified Centered Riding instructor and a PQI (Pennsylvania Qualified Instructor).  Sherri feels most comfortable teaching children, but enjoys teaching some very special adults too.
"I feel that one of my strengths is that, having learned to ride as an adult, the struggles of learning to ride remain fresh in my mind.   I am not a natural rider, so I've had to dissect and examine every aspect of my riding, which I feel gives me wonderful tools for teaching.  I love horses, children, to talk and to teach.  These loves have all come together to make me the instructor that I am."
"I've enjoyed learning from local instructor and trainer, Debby Hadden as well as internationally know instructor/authors Wendy Murdoch and Susan Harris".
Sherri enjoys riding her Saddlebred rescue Rooster "Roo".
One of the high points of my teaching "career" was teaching my daughter, Beka, to ride and watching her continue to grow in her riding with Amy, Deb and at College with Cheryl Keller.  I love being able to stay home and run this business with my husband Lee, and children Luke (and Izzy), Jacob & Beka.
Deb Schiller
Deb trained with: George Morris (current coach for US Show Jumping Team), Jeremy Beale (rode for British Olympic Team), Maurice Honig (rode for French Equestrian Team) and is one of three people certified in Pennsylvania to teach Advanced Hunt Seat Equitation by the American Riding Instructor Association.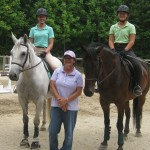 She was the Owner/Manager/Trainer of Cricket Hill Farm (Glenmoore, PA)  from 1994-2009; a full-service Equestrian Center: 60 lessons per week/boarding/training/summer camps/open horse shows/schooling horse shows/4-H Club.
Deb's students have competed successfully in hunter shows (including the Devon Horse Show), jumper shows, combined training, dressage shows and her 4-H Hippology Team finished 8th in the nation in 2008.
Deb is currently judging, teaching, and serving on three Boards.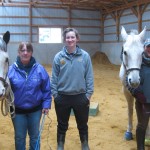 Kara Martin