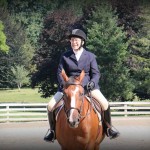 Chaps for a Wrangler "Wrangler",   is a handsome, 2000, bay, QH, gelding. He goes both english and western and is super steady.  Wrangler is a star on the trails, in the ring and at local horse shows. Photo Credit, Stashia Nolt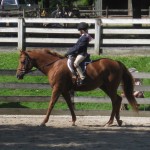 The Chestnut Mare "Chessy",  When we purchased this beautiful mare, we were skeptical. Chestnut mares have a reputation.   Chessy has proved to us over and over that she is not the typical chestnut mare.   She packs students around the ring for w/t/c and cross rail lessons as well as in the show ring.   Consistent is the best word for her.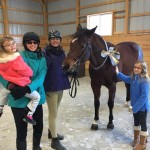 Helicity,  an adorable, 2012 Bay Thoroughbred gelding.  He was adopted from the New Vocations Racehorse Adoption Program in 2016 and purchased in 2018 by the Keenan family.  With his puppy dog personality, Helicity is thriving on the attention of these four young ladies.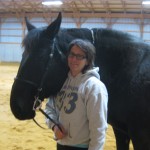 In the Black "Sally" is a big, solid 2006 Percheron cross mare.   And even though she's big, she's super quiet and gentle under saddle, making her a wonderful choice for beginner adults.   Sally was recently purchased by one of our students, Carrie L. and will still be used in our lesson program.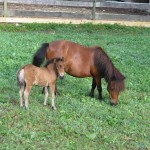 Dee & Lucy
,  Dee (Marystown Cowboys Delight) arrived at BrownHill Stable in January 2013.   She was in foal when we purchased her, we just didn't know it until July 21, 2013 when Lucy arrived.   What a wonderf
ul surprise.  Lucy and
D
ee are loved by all the students and staff.  
Lucy is now owned by student, Caden N. and Lucy is owned by student, Allie D. – Congratulations to these young owners.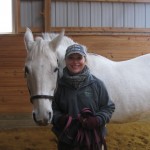 By Grace Alone "Grace", is a very athletic, 2004, 15.2 hand, Percheron/QH cross, owned and ridden by Hayley T.   Hayley & Grace are very connected and enjoy ground work, their lessons (of course

) and some local showing.
Rooster "Roo"  is a 16hh, 2002, bay, kill pen rescued American Saddlebred.  Some before and after pictures will be posted shortly.
Spirit, Lucy & Ethel – are part of Lesley & Jaden's family.   Both Lesley & Jaden enjoy riding Spirit.  Lucy & Ethel keep all of us happy!!!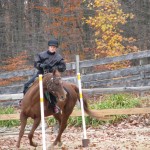 Doc, is a QH owned and ridden by Jan.   They have so much fun together, trail riding, working on barrel racing, pole bending and trail classes.  It is a joy to have them at BrownHill.  Doc has recently joined our lesson program.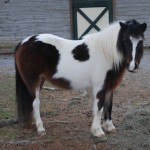 Tumbleweed is the sweetest 11 hand paint mare.   She trucks around the ring with our littlest riders.    She is easy to work with and has great barn manners.  "Tumbles" loves to go to horse shows.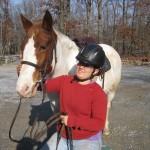 Eleanor of Aquitaine, "Ellie", a 13.2, 2006, pinto mare who is about as "bomb proof" as a pony can get.  She is sturdy and loves to go to shows.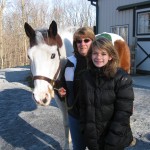 Mammy's Scout "Scout" is owned by the Fennimores. He is a 15 hand, bay pinto who takes good care of Eileen.   Eileen, of course, take wonderful care of him!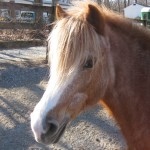 FC Gingerbread Baby "Ginger"   in an amazingly talented, 2007, 11.3 hand, Strawberry Roan, Welsh Pony.  Once you know which "buttons" to push, she's a lot of fun to ride and show.  Ginger is now for sale as her young rider outgrew her.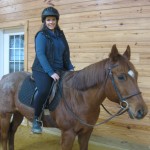 Huckleberry Finn, "Huck" is the Nolt family's newest member.  A  2010 super cute, sturdy 14.1, roan, Huck is well educated and is ridden by Stashia and Caden.  We're enjoying watching them all get to know each other.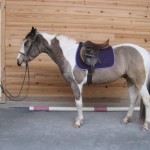 Shiloh, is a 2015 beautiful buckskin pinto pony.  New to our program, we're looking forward to seeing which direction this guy will go.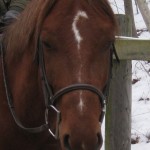 Charlie Brown "Charlie", is a 2012 solid chestnut Appaloosa gelding.  He's new to our program but already has some "favorite" riders.  He's been to several shows this year with our students.  See the C on his face?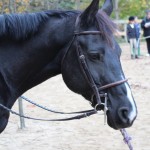 PJ, Is an incredible mare.   She is a Trakehner/QH cross, who is happy to carry a rider with disabilities, a small child or an advanced rider wanting to jump.  She quietly trail rides and has enjoyed going to some local shows.